Posts for tag: root canal
By Sandra J. Eleczko D.D.S.
August 11, 2012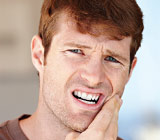 The term "root canal" strikes fear into many dental patients. But rest assured that this procedure is the best solution to many severe dental problems. It can be pain-free and will actually relieve pain and suffering from infections and dental injuries.
Why would you need root canal treatment? This procedure becomes necessary when the pulp, the nerve tissue on the inside of a tooth's root, becomes inflamed or infected because of deep decay, or when it has suffered a severe injury as a result of an accident or blow to the mouth. The pulp is composed of living tissues including nerves and blood vessels.
Root canal treatment may be necessary if you have a wide variety of signs or symptoms. The pain can feel sharp or intense when biting down, or linger after eating hot or cold foods. Sometimes it can be a dull ache or there may be tenderness and swelling in your gums near the site of the infection.
After trauma, the pulp of a tooth can be exposed or damaged because a tooth has fractured or cracked, necessitating root canal treatment. And the procedure is often needed for permanent teeth that have been dislodged or knocked out.
What exactly is root canal treatment? Root canal treatment is also called endodontic treatment, from the Greek roots "endo" meaning "inside" and "odont" meaning "tooth." During the procedure, the area is numbed to relieve pain. A small opening is created in the chewing surface of the tooth and very small instruments are used to remove dead and dying tissue from the inside. The pulp is needed during a tooth's growth and development, but a mature tooth can survive without it. The canal is disinfected and then sealed with filling materials. Sometimes root canal specialists use microscopes to work at an intricate level of detail on these tiny areas of the tooth's root.
By having root canal treatment, you prevent inflammation and infection from spreading from the root of a particular tooth to other nearby tissues. Infection can result in resorption, an eating away of the root and its anchoring bone, and you could lose your tooth or teeth. So please don't hesitate when we recommend this treatment. It's not as bad as you think, and you will feel significantly better afterwards.
Contact us today to schedule an appointment to discuss your questions about root canal treatment. You can also learn more by reading the Dear Doctor magazine articles "Common Concerns About Root Canal Treatment" and "Trauma & Nerve Damage to Teeth."
By Sandra J. Eleczko D.D.S.
July 01, 2012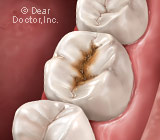 While some people associate the need for root canal treatment with an injury or trauma to a tooth (which is a valid cause), it can also most commonly be caused by tooth decay that is left untreated. This is the reason why we have put together this brief guide to explain the three common stages of tooth decay that lead up to the need for a root canal.
Stage 1: During this stage, decay begins to form in the tiny grooves on the biting surface of a tooth or where the teeth contact each other. The result is loss of the surface enamel of the tooth.
Stage 2: Left untreated, the disease progresses through the enamel and into the dentin, which forms the body of the tooth. Once in the dentin, it progresses more rapidly until it reaches the pulp — the living tissue within the root canals of the tooth. The decay infects the pulp tissues, which contain the nerves of the teeth, causing pain. The end result of inflammation and infection of the pulp is that it dies.
Stage 3: As the nerve dies an infection results, which causes pain and swelling. For some people who do not regularly visit our office, this may be the first physical sign that they have a problem. But all is not lost, a successful root canal treatment, whereby the infected pulpal tissue is removed and the root canals are cleaned and sealed will not only relieve the pain, but save your tooth. So the good news is that once a tooth has had the appropriate endodontic treatment ("endo" – inside; "dont" – tooth) followed by a proper restoration, the tooth can last as long as your other teeth. The key is to take proper care of your teeth, have routine cleanings, and visit our office as soon as you feel you have a problem with a tooth.
If you are having pain or symptoms from a tooth or teeth, check it out with us — you may or may not need a root canal treatment. Contact our office to schedule an appointment and find out. Don't wait until it's too late. And to learn more about the signs, symptoms, and treatments for a root canal, read the article "I'd Rather Have A Root Canal...."
By Sandra J. Eleczko D.D.S.
March 19, 2012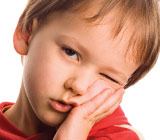 If you think your child is too young to need root canal treatment, think again — there is no age limit for this treatment. If his/her primary (baby) teeth have been injured, or if decay has advanced deep into the roots of your child's teeth, a root canal treatment to stabilize teeth may be needed. Root canal treatment removes infection from the pulp, the living tissue that is found inside the tooth's roots. The pulp contains the tooth's nerves, so tooth pain is often an indication that decay has moved into the pulp.
When performing root canal treatment on primary teeth, we must keep in mind that the primary teeth's roots will be resorbed as part of the normal process in which the body makes room for the growing permanent teeth that will take their place.
If a child experiences tooth pain that is related to changes of temperature or pressure, or exposure to sweet or acidic foods, the infection is likely to be minor and easily repaired. But if he or she feels a constant or throbbing pain regardless of stimulation, it may indicate an extensive infection of the pulp and surrounding area.
If the infection is advanced, the baby tooth may have to be removed. But if baby teeth are lost prematurely, a malocclusion (from "mal" meaning bad and "occlusion" meaning bite) can easily result; so we make every effort to keep the baby teeth in place to guide the permanent teeth that are forming underneath them, inside the child's jaw. In such cases an endodontist (from the root "endo" meaning inside and "dont" meaning tooth) or pediatric dentist may perform root canal treatment, removing the diseased and infected pulp from within the tooth's roots and replacing it with a substance that can be absorbed when it is time for the baby tooth's roots to be resorbed naturally.
When baby teeth are injured through a fall or blow to the face (referred to as traumatic injury) they may develop discoloration varying from yellow to dark gray. This is a sign of damage to the pulp tissues inside the tooth's roots. Dark gray discoloration often indicates that the pulp tissues have died. In such cases root canal treatment is needed to remove the dead tissue. If a tooth is completely knocked out of the child's mouth, most dentists agree that it should not be replanted because of the risk of damage to the developing tooth underneath.
Root canal treatment for baby teeth is a better choice than tooth removal if at all possible. It helps a child retain full function of their teeth, jaws and tongue, preventing speech problems, and it helps guide the permanent teeth into their proper places.
Contact us today to schedule an appointment to discuss your questions about treatment for children's teeth. You can also learn more by reading the Dear Doctor magazine article "Root Canal Treatment for Children's Teeth."