Posts for tag: dental hygiene
By Sandra J. Eleczko D.D.S.
September 10, 2012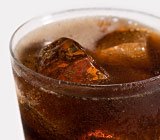 Your teeth were designed to last you a lifetime, so you should do everything you can to protect them. This includes guarding them against dental erosion. However, many people may not know for sure what dental erosion is, much less how or why they need to guard against it.
Dental or tooth erosion is the irreversible loss of tooth enamel from chemical attack by acids. Eating or sucking acidic foods such as lemons is a good example. But most people are shocked to discover that it can also be caused by their favorite sodas (carbonated beverages), natural fruit juices, energy and sports drinks — especially with excessive consumption. It takes the saliva, nature's protection, at least 30 to 60 minutes to neutralize the effects of acid, so only one acidic drink an hour causes your teeth to be continually bathed in acid. And this is an important fact to know, because if your mouth is acidic all the time, this will promote tooth decay.
Will brushing help out with prevention?
When it comes to dental erosion, brushing immediately after acid consumption can actually make it worse by accelerating the erosion process. This is because the acids in these drinks (and some foods) actually dissolves tooth enamel and softens the tooth surface. These newly softened surfaces can literally be brushed away if you brush before your saliva has a chance to try to reverse the process. If done often, you could even brush away your enamel! For this reason, you should wait at least 30 to 60 minutes before you brush your teeth after consuming any of these products.
So what can you do to prevent dental erosion?
One important step that you (and your family) can do to help prevent dental erosion is to limit the amount of these beverages you drink. Instead, try drinking calcium-rich milk or water and saving your favorite acidic beverage for a special treat that you consume preferably with a meal. Try reducing the number of these drinks you consume over a period of time. If you must drink an acidic beverage avoid swishing it in the mouth and use a straw to reduce the contact between the acid and your teeth.
Just remember that once your dental enamel has eroded, it is gone forever. So you should follow these simple tips now to protect your smile and future.
By Sandra J. Eleczko D.D.S.
January 23, 2012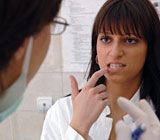 You just came in to have your teeth cleaned, but our hygienist is asking you about your general state of health and what medications you are taking. Meanwhile you are wondering why she doesn't just get on with the cleaning.
Dental hygienists are health care professionals who are trained and licensed to preserve your general as well as your oral health. That's why our hygienist begins your visit by asking you about your health history. Some health problems or medications may require special precautions during a dental cleaning. A hygienist also needs to know about your dietary history and other general health questions.
Our hygienist will examine the skin in and around your mouth for sores, lumps, and other areas that could be signs of oral cancer or other problems. She is trained to spot this disease and others.
Dental hygiene is individualized to your own situation. There is not a "one size fits all" solution. During your cleaning, our hygienist will also evaluate the health of your gums and teeth, checking for tooth decay and for inflammation (gingivitis) and bleeding. She will measure the space between your teeth and the surrounding gums, looking for pockets that form when the gums detach from the teeth. Such pockets indicate periodontal disease and can lead to serious problems.
After your health assessment and examination, the actual cleaning will begin. Your dental hygienist will remove deposits of plaque and calculus by using a technique called scaling. Plaque is a biofilm, a film of bacteria that builds up on your teeth. The reason you brush and floss every day is to remove this film from the surfaces of your teeth and gums and from between your teeth. Plaque that is not removed hardens into a mineralized substance called tartar or calculus, and this is what the hygienist removes by scaling.
The next step is a polish to remove surface stains from your teeth and to give your teeth the slick feeling that you identify as clean.
Finally, our hygienist will discuss your state of oral health with you and make suggestions for improvement. Most hygiene appointments take about 45 minutes to an hour. As you can see, during this appointment a lot must be done to preserve your oral health.
If you are in need of a dental cleaning, contact our office today to schedule an appointment. You can learn more about your visit to the hygienist by reading the Dear Doctor magazine article "Dental Hygiene Visit."
By Sandra J. Eleczko D.D.S.
December 25, 2011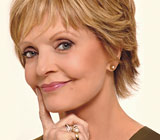 Florence Henderson, star of one of television's most beloved situation comedies, is still actively engaged in a variety of projects at 75-plus years of age. Her bright smile was part of her character as Carol Brady in The Brady Bunch, a popular sitcom that played for five seasons from 1969 to 1974. Though the show was discontinued, syndicated episodes continue to play in the U.S. and 122 other countries.
"I played Carol as the mother I always wished I had," she told Dear Doctor magazine. Her portrayal of mother and wife in a blended family with six children won her the Smithsonian Institution's TV Land Pop Culture Icon Award, which is on display in the National Museum of American History in Washington, DC.
After her successes on Broadway and in television, she was selected for numerous product endorsements, and The Wall Street Journal ranked her #5 in their top ten television endorsers based on viewer satisfaction. One of the products she endorsed was Polident, a brand of denture cleaners and adhesives. However, Henderson has revealed that she has her own natural teeth and does not wear dentures. Her advice to others who want to keep their natural teeth is to pay attention to prevention. "I think the most important thing one can do as with any health issue is prevention," she said. "Flossing, brushing, and regular dental checkups are vitally important if you want to keep your natural teeth."
When she was 22, she says, she had four impacted wisdom teeth removed at the same time. This experience made her aware of the importance of dental care, and since then she has had a checkup every six months. Wherever she travels, she says that she always has mouthwash, dental floss, toothpaste, and a toothbrush on the set.
Contact us today to schedule an appointment to discuss your questions about tooth care. You can learn more about Florence Henderson by reading the Dear Doctor magazine interview "Florence Henderson, America's Favorite TV Mom Has Many Reasons to Smile."