Posts for: February, 2012
By Sandra J. Eleczko D.D.S.
February 16, 2012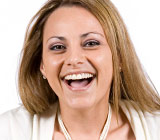 If you don't like your smile when you look in the mirror, or feel self-conscious because your teeth are discolored, there are a variety of whitening procedures that can help you obtain the smile of your dreams.
Choosing the Right White: With strips, trays and toothpastes all claiming to be the best tooth whitening systems, it can be hard to choose how to whiten your teeth. Our office can help you decide the best approach based on your individual needs, time constraints and budget. Whiteners may not correct all types of discolorations.
Whitening in Our Office: This procedure is called chair-side or professional bleaching and may require more than one office visit. Each visit may take from 30 minutes to one hour. We use an in-office whitening gel that is professionally applied to your teeth and activated by a light source, giving you significantly whiter teeth in less than an hour. Typically, teeth with a yellowish hue respond best to whitening.
Whitening Your Teeth at Home: If you are an adult who practices good oral hygiene and doesn't suffer from periodontal disease, our office can help you decide whether an at-home whitening system, or having your teeth whitened in our office best meets your needs. If you decide to go with an at-home system, you will wear a custom-made whitening tray that looks like a thin, transparent night guard. You fill the tray with a mild whitening gel and need to wear the gel filled tray for a specified period of time each day (per our office's instructions). This procedure must be continued over a period of time that generally extends from 2-4 weeks.
Whitening Products Found in Stores: If you are considering over-the-counter whitening products we can also recommend products that will offer you the best results. Whitening toothpastes that have the American Dental Association (ADA) Seal of Acceptance contain special chemical or polishing agents that generally provide some stain removal effect.
Contact us today to schedule an appointment or to discuss any questions that you may have regarding teeth whitening. Read more about this topic in the Dear Doctor magazine article "Teeth Whitening."
By Sandra J. Eleczko D.D.S.
February 08, 2012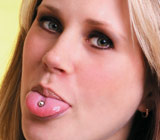 Tongue and lip piercing is a growing popular trend for some young people and adults; however, did you know that they could wreak havoc on oral health? In fact, some people soon discover that before they can even enjoy their new piercing they are faced with issues ranging from bleeding and infection to nerve damage. Tongues and lips are highly vascular — that means they have lots of blood vessels that can bleed easily and are not always easy to stop once they start bleeding. Many tongue and lip bolts can initiate problems such as tooth sensitivity, gum disease and recession, chipped teeth and more. In addition, not all tattoo parlors and tattooists are properly licensed to do piercings. Therefore, sterile techniques are not always guaranteed if they do not come under the scrutiny government agencies. Unfortunately, these potential concerns are rarely discussed prior to receiving a piercing.
So what can be done if you already have a tongue or lip piercing?
If you already have piercings, it is critical that they are closely monitored by your health professionals to make sure they are not doing damage. It is also important that you have routine dental exams to ensure that you do not have any silent problems causing issues that you haven't noticed. However, your best option is to consider removing these oral piercings. The good news is that most often the hole in your tongue or lip may heal itself; otherwise, a minor corrective surgery may be required.
A note of warning: Before you contemplate a piercing, get as much information as you can about them and the person who will do them. This includes asking about their risks, benefits and better alternatives. And then think twice to make sure they will not become permanent and negative reminders of temporary emotions!